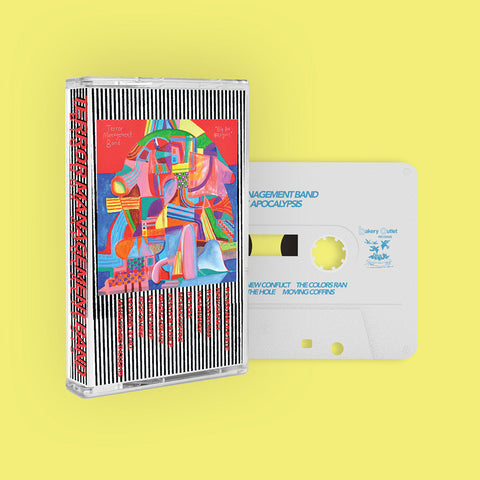 TERROR MANAGEMENT BAND - Big Box Apocalypsis (CASS)
Terror Management Theory posits that to manage the potential for terror engendered by the specifically human awareness of mortality, we sustain faith in worldviews which provide a sense of individual and collective significance in an enduring, meaningful world rather than mere meat costumes fated only to erasure upon death.
Terror Management Band was formed in St. Augustine, Florida in 2018. Big Box Apocalypsis is their first record, written largely before the most recent pandemic, and recorded at Black Bear studio in Gainesville, Florida soon after it was practical to do so.
The band consists of Kevin Kelly (Liquid Limbs) playing a large drum set, Jeremy Rogers (Minimum Rage, Dredger, Telepathic Lines) playing the bass guitar, Alan Mills (Burl, Greenness) playing guitar through a series of pedals, and Mike Taylor (Palatka, Halo Perfecto, Flaws) playing the more simple guitar and singing the majority of songs.
While Mike wanted to make a record that sounded approximately like "a metal garbage can filled with broken glass rolling down a staircase," tuneful elements and structure ultimately found their way into the songs, and they've rendered an album immediately discernible as music. While the earlier songs are character studies of the particularly southern Gothic elements of North Florida, the lyrical content was inevitably effected by the isolation of lock down, resulting in a record that is very much a document of America Losing its Goddamn Mind. We thank you for listening.
_____________________
Tracklist
01. The Red and the Blue
02. New Conflict
03. The Colors Ran
04. The New West
05. The Hole
06. Moving Coffins
07. Song for Silence
08. Fragile Asphalt
09. Untouchable
10. Roof on Fire
11. Go Dumb, Go All
12. Unwelcomed Thoughts
_____________________
Product Highlights
• Limited to 100