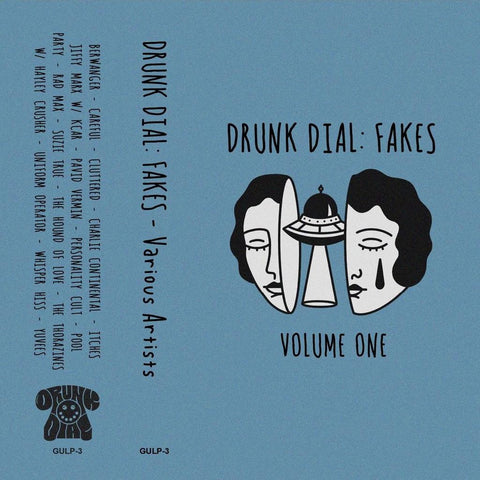 V/A: DRUNK DIAL: Fakes (CASS)
Drunk Dial: Fakes - Volume One
Real bands covering songs from bands that only existed in fiction.
1. 3 Small Words - Suzie True

by Josie and the Pussycats from Josie and the Pussycats (2001)
2. Billy Passed the 3rd Grade - The Hound of Love
3. Welcome to the Dollhouse - Berwanger
by The Quadratics from Welcome to the Dollhouse
4. Threshold - Cluttered
by Sex Bob-omb from Scott Pilgrim vs. The World
5. Minivan Highway - Personality Cult
from Tim and Eric Awesome Show, Great Job!
6. I Am A Giant - Whisper Hiss
by The Misfits from Jem (1985)
7. Spin Around - Thorazines (Feat. Hayley Crusher)
by Josie and the Pussycats from Josie and the Pussycats (2001)
8. I Hate You - Uniform Operator
by Edge of Etiquette from Star Trek IV: The Voyage Home
9. Politically Incorrect - YUVEES
by Sadgasm from The Simpsons 
10. Killer Tofu - Itches
11.  Shout Your Lungs Out - Pavid Vermin
12. A Kiss At The End Of The Rainbow - Careful
by Mitch and Mickey from A Mighty Wind
13. Gimme Some Money - Pool Party
by The Thamesmen From Spinal Tap
14. Against The Ninja - Rad Max
Dragon Sound from Miami Connection
15. Sugar Sugar - Jiffy Max (Feat. KCAR)
by The Archies from The Archie Show (1968)
16. Charlie Continental - COVID is all around
by Billy Mack from Love, Actually