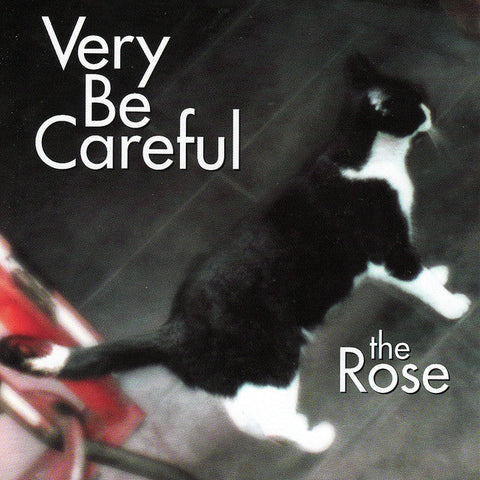 VERY BE CAREFUL - The Rose (LP)
This 2001 classic available for the first time on vinyl!
Adventure has never been a task for VBC.  A Caribbean soul and a California heart have sustained two decades of ceaseless romp-downs and raucous times for L.A.'s vallenato veteranos, inciting 10s of 1000s of men, women, children, and even some wild animals, to boogie to the Colombian coastal beat. From the debaucherous streets of: Austin's SXSW, Germany's World Cup Tour '06, L.A.'s Sunset Junction Street Fair; to the cultural pinnacles of: Chicago's Summer Dance Series, New York's Central Park Summerstage, L.A.s' Grand Performances & Levitt Pavilion, London's Hammersmith Apollo; colossal concerts: L.A. Sports Arena Cumbia Fest, Glastonbury Music Festival & Bestival UK, Fuji Rock Festival & Asagiri Jam Japan; clubs and hubs: N.Y.'s SOBs, L.A.'s HOBs, backyard BBQs, Very Be Careful has tamed the beasts within or unleashed the ones without, helping to popularize the beauty of the 1950s-1970s sound of Colombian vallenato and cumbia.
Bootlegged across the Americas, pumped in the clubs, and ripped in cyberspace and the airwaves around the world, Very Be Careful forges ahead globetrotting alongside legends and antiheros: Joe Strummer, Alfredo Gutierrez, Antibalas, Carlos Vives, Grupo Niche, Kronos Quartet, Gogol Bordello, Buena Vista Social Club, Jack White, Celso Piña, Vampire Weekend, Fruko YSus Tesos. Their infamous fifteen year traditions hosting old school "dances" for Valentine's Day, New Year's Eve, 20deJulio, Halloween, and the legendary July Fourth Brooklyn "Cumbia Under The Sparks" rooftop affair, has brought together people from around the globe itchin' for those early roots sounds that prove a stripped down parranda is the fiercest and funnest way to party.