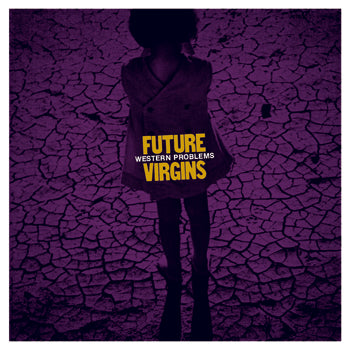 FUTURE VIRGINS - Western Problems (LP)
There are some bands you just can't stop hearing about on the Org. Whether it's due to news posts about music videos and streaming music or just an unending string of comments in Navel Gazing about a band's release being the best of the year, there are some names you just can't escape. 

On the other hand, there's Future Virgins, a band that has not only eluded mention in news posts and comments on the Org, but just about everywhere else on the Internet as well. It seems like the band prefers it this way, with no MySpace, no Twitter, and no Facebook–I had to email their label just to get any sort of information on the group or this release. However, I'm not sure a secret this good can be kept for long. 

Western Problems is the band's first LP after a trio of EPs and a split, and it's a gem of a debut full-length. The Chattanooga, Tennessee-based band plays a raw, high-energy brand of scratchy-voiced pop-punk with a hint of old-school garage rock influence. While any mention of "pop-punk with scratchy vocals" undoubtedly brings to mind a wave of bands that are starting to sound somewhat the same, Future Virgins shouldn't be lumped together with those bands–they simply sound nothing like them. Rather, Future Virgins' old-school influences help them retain a distinct sound that is simply more fun and danceable than their contemporaries. 

The disc opens strong with "No Echo", which begins with a catchy guitar riff that hints at power-pop before the rest of the band kicks in with a punk fervor you weren't expecting. As the song moves past its catchy, danceable chorus and into a guitar solo, you start to get an idea of the incredible energy that plays a prominent role on the album's 13 tracks. If there's a complaint to be had with the album, it's that the second half doesn't match the quality of the first. To be fair, that's more of a compliment to the spectacular first half than it is a complaint about the still-above-average second half, but it's still unfortunate that it hits a brief lull. 

The album's lyrics are just as sharp as its songs, and for all of the self-deprecating or angry moments, there's an enduring sense of optimism to be found on Western Problems. The sense of optimism is never more present than on the disc's stellar closing track, the appropriately titled "Positive Jam", where the band reminds listeners that it's not God-given talent that is required to make music, but time, effort, and energy: "I don't know talent, just action. I ain't seen genius, I've just seen passion. And there's no gifts from heaven, and there's no point in waiting for some kind of lesson. It's time you start creating anything you want that's in your heart." It's a great lyric, and one applicable to all of life's pursuits, not just music. 
— Punknews.org