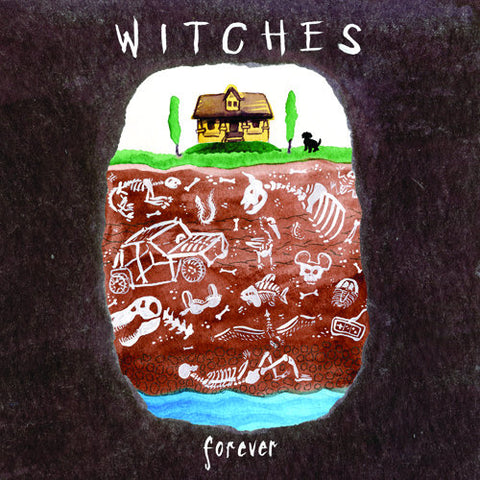 WITCHES - Forever (CD)
Punk by allegiance and attitude, pop by virtue of their wistful melodicism, Witches are a band borne of singularly American originality. Cara Beth Satalino is a New York-born chanteuse with a rougher than typical edge. Michael Clancy, a fellow Yankee, is a self-taught drummer of natural ability and feel. Jared Gandy, veteran of Athens groups with both DIY punk and Elephant Six Collective pedigree alike, rounds out the band's lineup on bass guitar. The band takes touches of the Breeders' feminine boldness, Des Ark's brusque emotional stance, and the wide-open, true rock n' roll worldliness of Midwestern punk idols the Replacements.
When Cara and Clancy moved to Athens after graduating from an upstate New York university (SUNY Purchase, the unlikely hotbed of creativity that produced Dan Deacon and other notable weirdos), Cara already had a swath of noteworthy solo material under her belt. After a spate of performances accompanied only by her electric guitar, she sought out a rhythm section. Clancy wasn't a drummer at the time, but he stepped up to the plate to do the songs justice. To listen to the band now, Clancy's abilities cannot be stepped to—he's a songwriter's drummer, for sure. As the two pondered a possible bassist, Jared's name came up—and he promptly walked into the room, gliding on the winds of sheer coincidence. Jared's melodic, wandering basslines were an obvious match to Cara's guitar playing, and provide McCartney-esque counterpoint to her full vocal timbre.
Which brings us to the centerpiece of Witches' appeal: Cara Beth Satalino is what puts the band over the top and sutures their songs into one's memory. She sings with simultaneous pointed honesty and dignified modesty. You can hear barbs and arrows in the songs that make up "Forever", Witches' forthcoming full-length album, released on Bakery Outlet Records. Some are directed outwardly; others seem to take aim for the singer herself. All, however, hit their mark with a precision that warrants respect.
Witches have released tapes and seven inches on Vinyl Rites (Gainesville) and Salinas Records (Detroit), and have toured with Nana Grizol, Landlord, and Dead Dog. If they weren't in Witches, they would still be best friends.
-Jeff Tobias