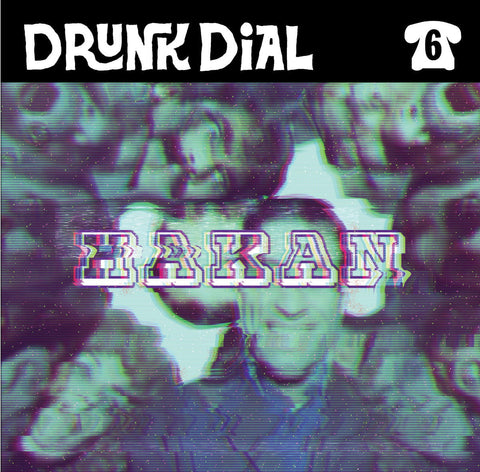 Drunk Dial #6 - HAKAN (7")
TRACK LISTING:
1. Tempuras Never Come
2. Mr. DNA (Devo)
__________
Post-recording interview with Hakan
[DD] Drunk Dial prohibits writing or rehearsing the cover before going into the studio, but did you prepare for the day of recording in any other way?
[H] Yes, buying a box of beer and a bottle our favorite liquor Branca Menta. We each have our favorite brands of Italian beers (Moretti, Menabrea, Castello, Ichnusa, Von Wunster, Nastro Azzurro) so we had to choose carefully to satisfy everyone's needs! And if you like Italian liquors and you like mint, you have to try Branca Menta. You won't be disappointed.

[DD] Did you have any specific fears going into the studio? What ended up being the most difficult part?
[H] We didn't have any specific fears. The most difficult part was staying awake after a "delicious but hard to digest" lunch in a restaurant of traditional Northern Italian cuisine. Also, a tough band playing rad Italian traditional songs from Milan was playing there and we felt the pressure. A picture should be attached.

[DD] Why did you chose to cover DEVO's "Mr. DNA"?
[H] We love DEVO, some time ago we were listening to "Duty Now For The Future" together in the car, when "Mr. DNA" started right after "Smart Patrol" Marco fell in love with the fast hi-hat drumming style of this song. We found the cover!

[DD] Do you prefer playing music sober or buzzed?
[H] Both, some beers and shots always help to get in the right mood! There is that exact moment when drinking when you reach the perfect quantity of alcohol in your blood, enough to make you feel the king of punk but not enough to make you feel like shit. Though Marco has a rule, just a couple of beers and shots, otherwise he cannot play and the show ends up in a fucking mess.
[DD] What is the best cover song of all time.
[H] Hakan playing DEVO!

[DD] It's closing time at a bar full of your friends, there's only time to play one more song on the jukebox. What do you play?
[H] Something epic like "Backstage" by Gene Pitney, but maybe in the Devil Dogs' version, that song makes me cry!