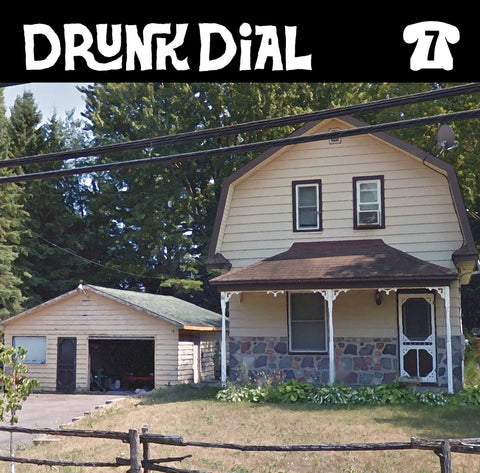 Drunk Dial #7 - CAREFUL (7")
Track Listing
1. Comeuppance
2. Careful - Ingrown (Smudge)
 __________
Post-recording interview with Dave Williams of Careful

[DD] Drunk Dial prohibits writing or rehearsing the cover before going into the studio, but did you prepare for the day of recording in any other way?
[DW] Admittedly, I've been wanting a reason to record some songs in this style for quite some time, so I pretty much just listened to a bunch of stuff in this specific vein (Lemonheads, Smudge, Godstar, the Half A Cow comps, etc) and thought about some of my "go-to" chord progressions and how they might fit into a song of that ilk.

[DD] Did you have any specific fears going into the studio? What ended up being the most difficult part?
[DW] For better or worse, I have PLENTY of experience writing, performing and recording while under the influence of various intoxicants, so I wasn't particularly fearful or nervous about that... however, I've never been particularly confident about my vocal abilities (having Scott around and out front for the past dozen years has been wonderful) and it was rather stressful making that first "solo" leap. That said, I'm really quite happy with results, and the Drunk Dial modus operandi certainly helped with the stress.

[DD] Why did you choose to cover Smudge's "Ingrown"?
[DW] I've been madly in love with The Lemonheads since my late tweens/early teens, but it was only in the last ten years or so that I discovered Dando's secret weapon and longtime songwriting partner Tom Morgan. Morgan's been in a slew of bands in the Aussie "Half A Cow" scene since the late 80s, and Smudge was/is his main endeavour. Smudge's Manilow record has become an absolute and "Ingrown" is one of its strongest tracks (which is saying a ton). Hopefully I did some justice to Tom, Alison and Adam's original "slacker-pop" masterpiece.

[DD] Do you prefer playing music sober or buzzed?
[DW] I 100% prefer to have a few empties behind me before rehearsing or going on stage. Whether or not it helps with my performance is hard to say... although there have doubtless been occasions where the ol' screws were perhaps a couple of turns more loose than they should've been.
[DD] What is the best cover song of all time.
[DW] Wow. That's a hell of a question. Alright, well I guess it's time for a Top 5 (6, really - in no particular order):
1. Barenaked Ladies 'Lovers in a Dangerous Time' (Bruce Cockburn)
2. Nirvana 'Son of a Gun' (The Vaselines)
3. Crash Test Dummies 'The Ballad of Peter Pumpkinhead' (XTC)
4. The Hellacopters 'A House is Not a Motel' (Love)
5. TIE: Cyndi Lauper 'Money Changes Everything' (The Brains) / Blondie 'Hanging On the Telephone' (The Nerves)

[DD] It's closing time at a bar full of your friends, there's only time to play one more song on the jukebox. What do you play?
[DW] Goddamn. Another super tough one. I guess if I had to pick something that's gonna make the most people happy, running the gamut from the garage punk dweebs to pop punk twerps, the hardcore dorks to the crusties and beyond, I'm gonna with one of many masterpieces from my man Jeff Burke, The Marked Men's "A Little Time." Inevitable ear-to-ear grins and rumps-a-shakin'. …Or, y'know, "Dammit" is always a safe bet.