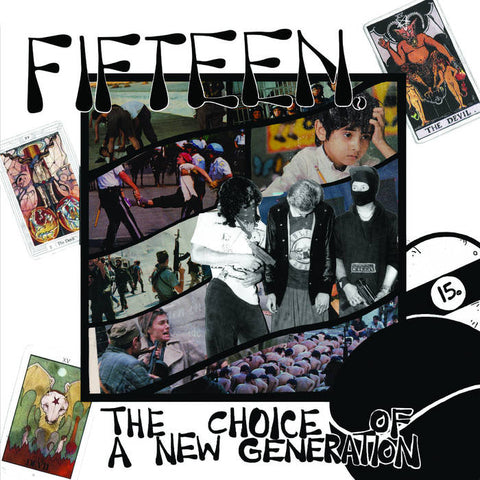 FIFTEEN - The Choice of a New Generation (CD)
Fifteen formed in 1988 during the tail end of a Crimpshrine tour. After Crimpshrine broke up, Fifteen started playing shows. Fifteen embarked on their first tour in the summer of 1989, and recorded their debut s/t EP in April 1990 for Lookout! Records. Fifteen went on their first US tour in the summer of 1990, playing shows with Filth & Fugazi. They released their first album ("Swain's First Bike Ride") in 1991 on Lookout!. 

In summer of 1992, the band toured the US & Canada, and recorded their second album, "The Choice of A New Generation". Originally released on CD/LP in 1992 on Lookout! Records. The band saw a line-up change with this album, featuring Lucky Dog (RIP) on bass guitar. 

The songs have taken on a new life with a 2017 remastering. Gloriously restored & remastered from the original reel-to-reel master tapes by Carl Saff at Saff Mastering. Astounding artwork restoration by Hugo Fitzgerald, face-lifted from the original hand-made art. *Featuring cover art in full color for the very first time! Replicating exact original collage art, made by Lucky Dog.*