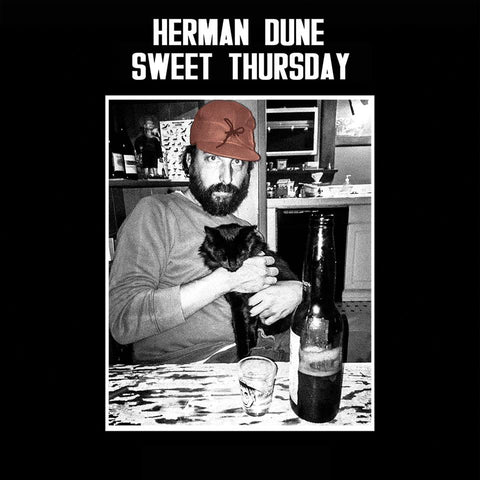 HERMAN DUNE - Sweet Thursday (LP)
"These are great blues songs, in a transplanted Euro-American meta-blues way" –Zack Kopp about Sweet Thursday in "It's Psychedelic Baby".
Sweet Thursday is the first new Herman Dune album in 7 years and consists of nine songs written and recorded in San Pedro, California.
FOR FANS OF:  Lucinda Williams, The Silver Jews, Bob Dylan, The Velvet Underground, Mac Demarco, Jonathan Richman, Van Morrison, The Moldy Peaches.
_____________________
Herman Dune is David Ivar's musical project.  It was started in 1998 in Paris, France.  David is a French/Swedish citizen who began playing antifolk in Paris at a time when no DIY scene existed, let alone with songs performed in English.
After spending years in Lo-Fi territory with the label Shrimper (The Mountain Goats, Dump, Lou Barlow), 2006 found Herman Dune signing to EMI/Source (UK Virgin).  The album "Giant," was certified Gold in France had Herman Dune tour non-stop for the next two years.  Herman Dune played 42 States in the USA and all over Europe, including landmark festivals such as SXSW, End of the Road, Green Man, Benicassim, Primavera Sound Festival, All Tomorrow's Parties, and Central Park Summer Stage festivals.
 Through a "Never-ending" life on the road, Herman Dune has toured with Arcade Fire, Jolie Holland, Kimya Dawson, Of Montreal, and opened for Sleater Kinney and Wanda Jackson. Whenever in the UK, he was always welcome at BBC1 to record exclusive sessions, and holds a record for tracking 10 John Peel Sessions with the mythical British DJ.
David Ivar - On writing the album:
Sweet Thursday is the third volume of the Cannery Row trilogy by John Steinbeck. After leaving France in all kinds of clashes and hurries, I felt that in my new home San Pedro, California, I had found my own Cannery Row. I moved to Santa Cruz Street, by the harbor, where life starts at 4AM.  The nine songs of Sweet Thursday were recorded live with my band (Kyle McNeill & Lewis Pullman) and produced by myself and Kyle. It was then mixed by Adam Selzer (M.Ward, Langhorne Slim), and mastered in London by Mike Cave."
Now an Immigrant in California, I set up a studio in my back yard; I gave up my phone, stopped touring and started working intensely on music and art. I also drove around the South Bay in my 1992 Toyota with its old cassette deck. Most songs on "Sweet Thursday" are inspired by this new life, and the doubts and fears of being an alien resident in the shift of the US during this current administration. 
At a recent show of Mike Watt & The Missing Men in a warehouse on the docks near my house, Mike shouted out to the audience, "Release your own stuff! Put out your own music!". I felt like the King of the San Pedro Punk Scene was pointing at me to inspire me in my process of going back to doing things myself, my own label, my own everything!
TRACK LISTING:
Oh Sweet Thursday

Vincent Thomas Blues

Wicked Love

A Giant

's Dream

Down By The Jacaranda

Love Cat Blues

Early Morning Anderson Blues

Joanna

Dreamin' Is Over, California
Written by David Ivar
Guitar & voice by David Ivar
Bass & Harmony by Kyle McNeill
Drums by Lewis Pullman
Produced by Kyle McNeill & David Ivar
Recorded by Jason Hiller at Santa Cruz Studios 
Mixed by Adam Selzer
Mastered by Mike Cave at Loft Mastering, London
Cover artwork by David Ivar
Photography and Backing Vocals by Mayon