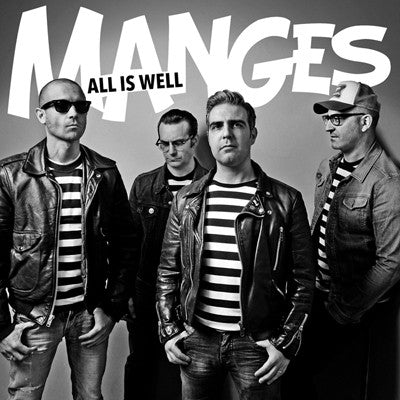 MANGES, THE - All Is Well (CD)
Back in 2006 we released the first of what would become many records with The Manges. In the release write up for that first single I called them a punk rock institution. I still stand by that statement today. Four albums, a slew of singles, and eight years added to their resume and I'd say they're fast approaching legendary status. The Manges have been an active band for 20 years now. Their heroes and mentors the Ramones lasted for 22. I don't think there is another Italian punk rock band that has lasted as long. Too tough to die with the strength to endure, The Manges are still going strong!

All Is Well is The Manges' fourth full length album and second on It's Alive. Much like the Ramones they have continued to stick to the formula of streamline punk rock without screwing it up. It's a difficult task to make something deceptively simple sound so good. Many have tried. Most have failed. The Manges found what works best for them and continue to push that sound to perfection. Love it or hate it, there is little room for anything in between. All Is Well delivers a dozen tracks of punk rock pure and simple. Just they way they want it. 

Casual listeners (or people who just don't know what's up) often say that this style of punk rock is played out and that it all sounds the same. To them it might. To us it doesn't. The chords might all be the same, but if the band's doing it right every album's gonna sound different. All Is Well finds The Manges working with former founding member Herve Peroncini (of the Italian band The Peawees) as producer. His '60s soul style of rhythm and blues and roots rock n roll are heavily present in the album's sound. Guitars ring through crisp and clear with little to no distortion, rhythms pop, and vocals soar above.

All Is Well is The Manges' answer to Road To Ruin. A new take on an old sound.