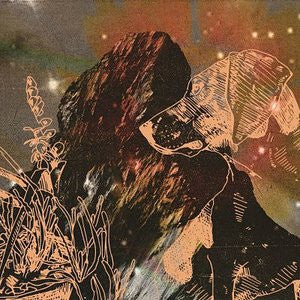 MIDDLE CHILDREN - Earth Angel (LP)
Middle Children "Earth Angel" LP LPR154
Debut albums can sound like a group lucked into a sound they'll never recapture, or in the case of Middle Children's "Earth Angel," a refined result of shared background and years spent putting in the work. It's fresh, but arrives loaded with distilled style and dues paid. For the cult fans who have followed these musicians' work, we only crossed our fingers that we'd get an album like this someday. 
The auteur of Middle Children is Patrick Jennings, who writes, arranges, and records the band from his home in Bloomington, IN. His music became known to most initially through his band Hot New Mexicans, and later Purple 7. Jennings left Purple 7, a multi-songwriter group, to play music with childhood friend, Ginger Alford, formerly of the band Good Luck. The team enlisted a handful of musicians to make "Earth Angel," include Kyle Houpt, Christopher Butcher, and Matt Tobey. 
Jennings and Alford bring a history of playing together in bands from their Mississippi Delta hometown, as well as hosting shows for touring bands from said unlikely outpost in the south. Rather than an expected storybook fleeing to New York or LA, Jennings spent most of his young adulthood in Athens, GA. Here he seemed to absorb parts of the eclectic pop of the Elephant 6 sound and its focus on homegrown yet high-quality recording and production. He was a multi-instrumentalist in the band Nana Grizol and spent some time in the touring band of Julian Koster's The Music Tapes. 
"Earth Angel" remains sparse and economical, despite additions of multiple guitars, piano, synth, or upright bass. Jennings's voice is given plenty of space, allowing the listener to catch the many nuances in his delivery, how each syllable seems to emote, quickly shifting from vulnerable to confident, a whisper to a shout. He brings intensity to otherwise melody-driven songs, catching you off guard sometimes with a line like "shit gets real faster than your ass / goddam laugh while it lasts." Such seeming non-sequiturs pop out among words that often look inward. In the lyrics you'll find loneliness yet love for others, some self-defeat yet tenacity in the face of insignificance. "The sky can only spit on you / you speck." An image of Jennings as the songwriter emerges – a hermit of sorts whose focus and dedication brings others warmly into the fold. Together they bring these songs to life, lest Jennings forever be "echoing in [his] shell". 
Key Selling Points: 
 National Press by Chris Hnat Grand Stand 
 East Coast Tour March 2017