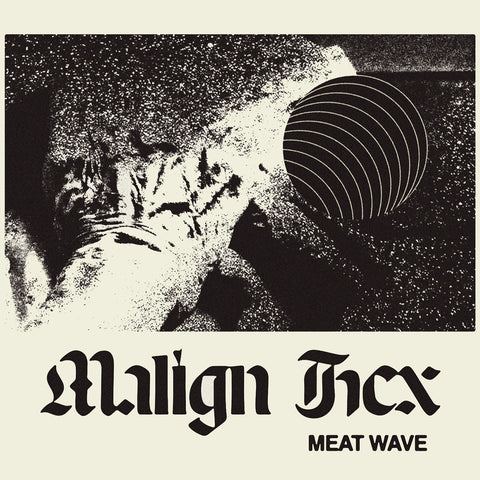 MEAT WAVE - Malign Hex (CD)
The 10-track record, which features 'What Would You Like Me To Do' as well as previously released singles 'Ridiculous Car' and 'Honest Living', was recorded by bassist Joe Gac in 2019 at the band's rehearsal space and respective apartments. Following 2017's The Incessant, Malign Hex is the band's most cohesive, dynamic and ambitious work to date – "a culmination of what we've been doing for 11 years. We've been working towards this," as Sutter deftly summarises. "Our sound in the beginning was consistently very driving," recalls Gac. "Now, that characteristic is merely a tool we can reach for. I don't think it completely defines what we're doing."
The band spent the last half of 2019 chipping away at the record, choosing to work on it slowly in spurts, as opposed to their last album The Incessant, which was recorded and mixed in just four days. If that feels like an odd move – to veer away from a formula that worked so successfully on The Incessant, which received near-unanimous critical acclaim on release and was dubbed "an album meant for breathless angst, fists in the air, spit in your hair" by The Guardian – it's one that pays off dividends on Malign Hex: a set of songs that finds Meat Wave at both their most gentle and abrasive, creating urgent and vital punk music that's unafraid to dial things back and experiment, ready and willing to take a breath amidst the mayhem. Suffice to say, it's a record of contrasts and juxtapositions.
"We recorded [Malign Hex] the same way we always have— live in a room together," says Wizniak. "But we allowed ourselves to embellish more and take more chances with extra instrumentation." And while the band did indeed incorporate more synths, organs and walls of guitar, it provides only nuance and atmosphere, not distraction from what Meat Wave does best. "We moved further away from the principle that we need to recreate every element on the album live," Gac adds. "There was no shame in adding extra overdubs and different sounds."
The album's lyrics centre around themes of lineage; where we come from, and where we're going. Malign Hex explores a litany of subjects and circumstances – addiction, greed, unreliable memory, obedience – through a surrealist, collage-like lens.
"A malign hex is something that is pertinent only to you, that is handed down to you, or was raised in you through time: depression, addiction, greed, envy. Everyone wears a backpack full of hexes. It's heavy and familial. And it's yours," Sutter offers. "The meaning of malign is evil or malignant in nature. So, the idea was picking apart what my hexes are. Ironically, being in this band and making this band my life for so long has proved to be one of the hexes, but it's also tied to more systemic hexes. It's the evil algorithm that is you."
In keeping with the way these malign hexes can gestate over a lifetime, the album loosely follows a birth-to-death arc across its ten tracks. Where its incendiary opening one-two punch of 'Disney' and 'Honest Living' deal in the nascent realisations you make as you grow into a fully-formed person and the experiences that shape them – being a child, getting older, having to work, navigating through life, complaining – its second side is more reflective, if not world-weary then at the very least world-wise. The menacing surf guitar of 'Waveless' is struck through with millennial ennui – "partying is surfing in a waveless tide," as Sutter puts it – while the tumultuous '10k', which opens on Sutter declaring "it's been 10,000 days since the hex," might as well be the album's title track. "The 10k is referring to being alive for 10,000 days [at the time of writing it]. I was 28 at the time, and still not really knowing anything. It's about acknowledging the hex – a hex of insecurity or unknowing. It's about how life is so simultaneously surprising and boring. How I know so much and yet so little. 10,000 days feels like both a long time and a short time."
The album's penultimate track, 'Jim's Teeth', meanwhile, crushes together two different narratives – one involving a friend who thought they'd lost their false teeth in Sutter's car one night, the other relating to another friend's experience of a childhood exorcism – into a miniature epic that builds from a hypnotic opening section into a whirring haze of interlocking guitars, harking back to a lineage of great Chicagoan bands in the process. Somehow, Meat Wave pull off its divergent plotlines seamlessly. It's something they do, on a larger scale, across the album, charting a series of hexes through the innocence of youth and the wisdom of age, through gentler grooves and bright explosions of sound.
For all its contrasts though, if there's a throughline to Malign Hex, it's that it's ultimately a record about reflection and figuring yourself – and your hexes – out. "My Dad came to visit us when we were making this album, on the top floor of our rehearsal space in a really shitty warehouse," Sutter explains. "Ironically, this record is tied to him because I am a product of him. He's handed me down some of his hexes. And ultimately, he passed away in November of last year and never got to hear it. It's very cosmic and deep to me, and I'm still figuring the record out as a result. So, after all that, I'm not sure what it's even about yet."
It's an apt summation of the impermanence of life, of how the meanings of things shift but our hexes largely remain. Perhaps in another 10,000 days, Sutter may have the answers he's looking for.