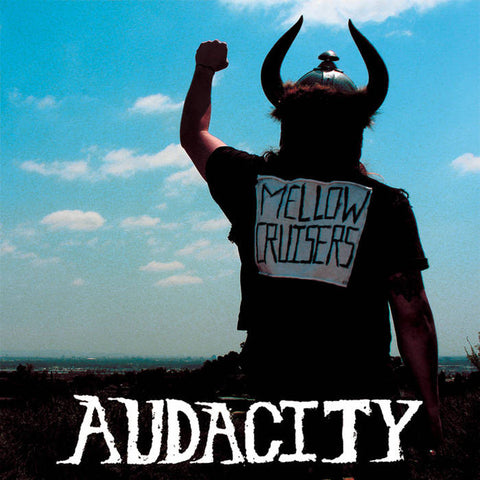 AUDACITY - Mellow Cruisers (CD)
Audacity recently spent three years spent on relentless touring, working up and scrapping (except for a few rare (7")s) what could have been an album all its own and even serving as backing band for both glam-garage savant King Tuff and San Pedro punk godfather Todd Congelliere, who stepped away from his bands Toys That Kill and Underground Railroad to Candyland to play solo songs in the adorably named Toddacity. By May 2011, however, Audacity felt they were ready, and began recording what would become Mellow Cruisers with L.A. producer Rob Barbato (Soft Pack, Cold Showers).
You can tell they're older and wiser, says Gibson. ("Hopefully!" he adds). But he's not wrong. 'Power Drowning' was already the kind of revelation-slash-reassurance punk gets too rarely - like the Descendents, Adolescents and Red Cross before them, that first Audacity LP proved again that unsupervised kids from the suburbs can smash out their own set of teenage classics, with personality and righteousness and even technique to spare. On 'Mellow Cruisers', however, the Audacity machine reinforces that SoCal core with the tangled guitar of Dinosaur Jr., the bottle-smashing rock 'n' roll of the early Replacements, Nirvana's blown-apart Bleached rockers, even some kind of screwy post-Pinkerton twin-guitar riff derangement on "Subway Girl"'s middle break - this is a punk band that spits out pop songs at high velocity, that breaks open a chorus with an even better chorus and stacks lead on melody on lead until the whole thing just blurs into white light.
Yeah, Schmalfeld can still screaaaaaam like nobody, but they got sweet spots on this now, too. If you've seen them live in the last year and heard a song you loved - "Punk Confusion," "Funspot," "Ears and Eyes" - then it's on this record waiting for you.
AUDACITY Mellow Cruisers CD-REC159CD