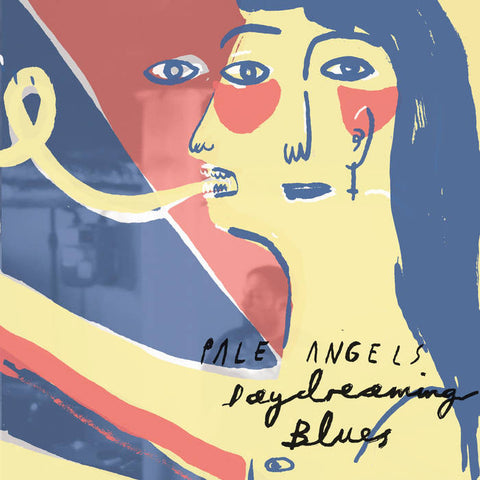 PALE ANGELS - Daydreaming Blues (LP)
Daydreaming Blues is the third album from transatlantic punks Pale Angels, based between New Jersey and Swansea, Wales. Guitarist Michael Santostefano and bassist Jamie Morrison play hypnotic, blown out punk with the help of drumming friends on either side of the Atlantic (half written in Wales with drummer Reza Mirehsan, before completing and recording with Chris Krause in the US). If people say being in a band is like a marriage, Pale Angels is more like a long distance love affair, forsaking practicality for an intensely close musical relationship.

The band has spent the past few years touring the UK, Europe and both coasts of America a few times over, playing their usual frantic live set in venues and basements as well as the occasional stripped back quiet set at in-stores and people's houses. Pale Angels are a band best experienced live, and Daydreaming Blues is an album which captures all aspects of that perfectly.
 
Recorded live over two days at Strange Weather Studios, Brooklyn NY with Ben Greenberg (of Uniform, Hubble & previously The Men), the new album builds on the blown out, grunge-fuelled, garage punk of their previous records with the injection of more dark pop influence, adding touches of Wire and The Pixies to their Hüsker Dü and Ramones-influenced punk. Reflected in its title, Daydreaming Blues has a hypnotic, dreamy quality with depressing themes throughout. Watch the video for 'You Don't Dance' below, made by Jen from Shellshag...
Key Selling Points:
National Press by One Beat PR

Constant Touring Throughout 2016 and 2017

Available for In-stores on tour route
PALE ANGELS Daydreaming Blues LP-REC201