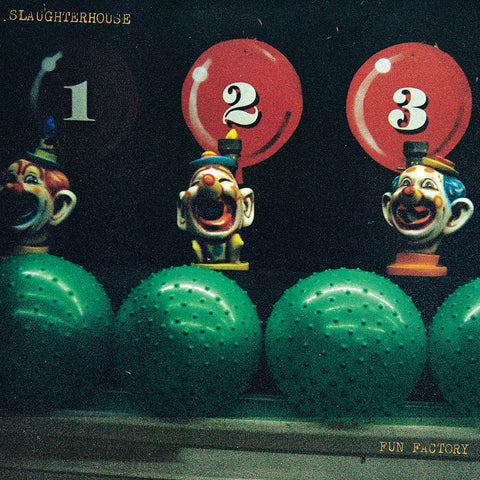 SLAUGHTERHOUSE - Fun Factory (LP)
Welcome to 
Fun Factory,
 the debut full-length from Slaughterhouse. 12 tracks of fresh fun, dripping with thick bass grooves, sopping wet guitar riffs, driving drums and vocals that range from desperate cries to shouts of melodic melancholy. Slaughterhouse projects a reference to the past while creating nuanced and modern textures with depth well beyond that of a four-piece. Fronted by Veronica Molidor's dynamic vocals, the rhythm section of Eddie Cairns on bass and Nick Aguilar on drums plow through the empty spaces of silence with ominous and bounding force that provides the auditory wake for Taylor Ramirez's guitar to drone, buzz and howl its way through the darkest corners of 
Fun Factory.
 Recorded in Hermosa Beach at Screaming Leopard and produced by Fletcher Dragge and Patrick Burkholder, 
Fun Factory
 grinds out track after track of dire and unique tunes signature to a group looking for more than just a good time.
Tracklist
01. T.V. Age
02. The Rat
03. Time Killer
04. 911
05. Seasons
06. Reflections
07. Fun Factory
08. Micromanage
09. Murder Song
10. Paranoia
11. Telephone
12. Outro
Product Highlights
• Green Vinyl
• Includes Download