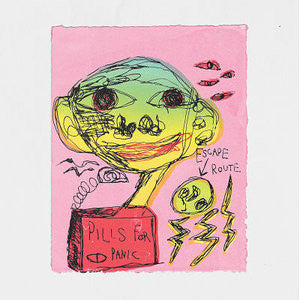 SWIM TEAM - Self-Titled (LP)
Cincinnati, Ohio's Swim Team are vacillators who will gush
about the Yeah Yeah Yeahs before spilling their beer on
you and asking someone to put on KISS. Candidly
unapologetic, Swim Team creates deranged earworms that
draw you in and spit you out.
Beginning as a love-struck duo between Lillian Currens and
John Hoffman, the project quickly outgrew itself to
become a blown out four-piece, enlisting an aggressive
rhythm section with similar roots in the DIY scene at the
heart of their Northside neighborhood.
Their self-titled debut album (initially released on cassette
by Infinity Cat Recordings, now on vinyl by Let's Pretend
Records) breezes through 12 self-recorded, brash and
intimate songs that explore complex relationships, embrace
vice, and spurn the attention of "idiots." In under 30
minutes, Swim Team takes listeners on a dynamic ride
where the softest tracks feel like welcome breathers in a
blitz of unadorned insight and restless thrash pop.
500 records pressed in all. 200 on clear vinyl with pink
splatter and 300 pressed on black vinyl.