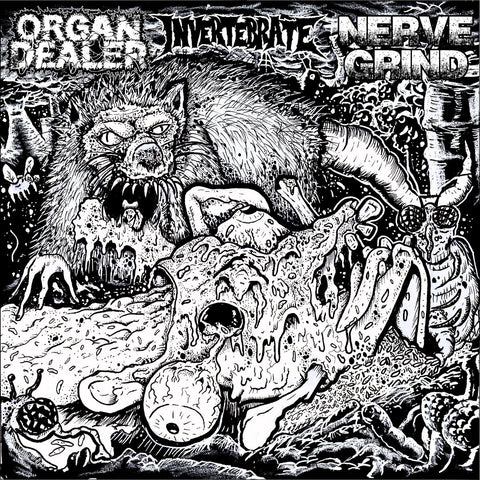 V/A: ORGAN DEALER / NERVE GRIND / INVERTEBRATE - Split (7" EP)
Triple split 7" of East and West Coast annihilating grindcore and power violence. 18 tracks on a 7". Once it starts it just don't stop. New Jersey's Organ Dealer's first recorded output since last years full length split with Birdflesh. 6 punk grind tracks ripping flesh from the bone. Punchy thrashy riffs overtop non-stop blasts. Nerve Grind, from San Pedro, come at you with that old school grindcore vibe. Manic and lo-fi. Vocals like an angry gorilla. Reminiscent of early Napalm Death. Invertebrate close the record with that Oakland power violence. If this was 98 instead of 2018 these guys would no doubt be on Slap A Ham records. Fast, slow, blasts, samples, punk circle pit thrashness.
For fans of: Nasum, Napalm Death, PLF, Discordance Axis, Noisear, Kill the Client, Suffering Mind, No Less, Plutocracy.
• Download included.
Organ Dealer- Feed
Organ Dealer- Burn
Organ Dealer- Remnants
Organ Dealer- Totality
Organ Dealer- Contour
Organ Dealer- Silence
Nerve Grind- Bow To Nothingness
Nerve Grind- Existential Significance
Nerve Grind- Worthless Failure
Invertebrate- Mindgout
Invertebrate- Fuckface
Invertebrate- Good For Nothing
Invertebrate- Choke
Invertebrate- The Reckoning
Invertebrate- Indignant
Invertebrate- Irish Goodbye
Invertebrate- Untitled
Invertebrate- Chump