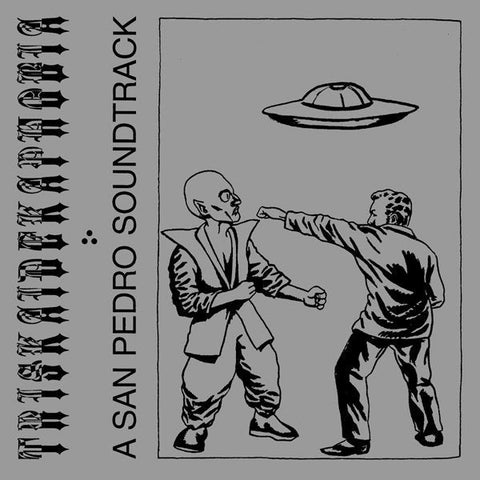 V/A: TRISKAIDEKAPHOBIA: A San Pedro Soundtrack (CD/ZINE)
Marketed by Water Under the Bridge Records.
Compiled and directed by Craig Ibarra.

The San Pedro CD you can live without. Fear of the number 13 includes 23 bands, 27 tracks. A 62 minute soundtrack for your boring life — get it togetherrrr ...


SIR DRONE
Sound bite from the 1989 film by Raymond Pettibon with Mike Watt & Mike Kelley.  01.  Intro - There Ain't No Scene in Pedro
THE SKANKS

02. 2010

ROLLING BLACKOUTS
03. French Kiss*

400 BLOWS
04. And The City Never Slept

NO COMPLY
05. Jump Start Me

MIKE WATT'S WE GO SPEEDRO
06. Down On The Street* (The Stooges)

TOYS THAT KILL
07. This Ain't Killing Time*

HARDBALL
08. Night Of The Billyclub*

PIGSTY
09. Slow*

THE JAG OFFS
10. Creepy Crawly

SECOND TO LAST
11. Shaboingy*

THE LEECHES
12. Where In The World Is Taylor Kramer?*

IAMBIC PENTAMETER
13. Tendril Crack*

RIG
14. Ton Of Bricks*

CONSUMERS
15. Buddha's Working The Keg

ORGANIZED NOISE
16. Stool Pigeon

LOITER
17. Dog Rocket*

FISHCAMP (featuring chuck dukowski)
18. Birdshit Windshield*

FEMALE CHAUVINIST PIGS
19. Sick Of It All*

BARTON HILL
20. Liar*

FULL BLAST
21. Tight Sweats

ELVIS KNIEVEL
22. Frying Pan*

FARMERS (featuring george hurley)
23. Bored Again

THE SKANKS
24. Rap

ROLLING BLACKOUTS
25. Lots Of Love*

THE JAG OFFS
26. Dookie Love

BEER DRINKIN' WHETHER
27. Happy Mind*

* Previously unreleased and only available on this CD