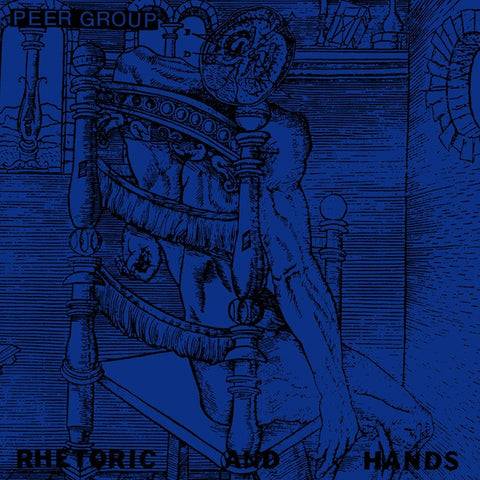 PEER GROUP - Rhetoric and Hands (7" EP)
The long lost Peer Group recordings now out with a voice and character all their own. Contemporaries of Saccharine Trust, the Minutemen and the early '80s South Bay scene. A very significant band at a very intense time.
— Mike Watt
Mike Hurley  drums 
Lina Sedillo  bass 
Gary Jacobelly  guitar, vocals 
Jimmy Otter  vocals
_________________________
5  songs
1. ICONOCLAST YOUTH 
2. EATING OUT 
3. BROMIDE 
4. BOX OF WORDS 
5. LON CHANEY
Bonus Tracks on Download
6. I SAW THAT MOVIE 
7. XMAS IN PURGATORY 
8. NEURON SUITE 
9. OBJECTIFICATION (LIVE)
_________________________
Recorded December 16, 1981 at Pax Studios — Gardena, CA
Edited January 1982 at Darkstar Recording — Torrance, CA
Engineered by Matt Booth
Produced by Peer Group
_________________________
Cover art by Charles Étienne 
Back cover photo by Gary Jacobelly
_________________________
During this time, late in winter 1981, the engineer at their sometime rehearsal space taped them for a demo. Most songs were recorded in one take in a couple of hours, thus explaining their charming, "raw" quality. 

Jimmy wrote "Iconoclast Youth." "Eating Out" was Mike Hurley's contribution. Lina and Gary wrote the goofy little half bad French howl of despair "Lon Chaney," and Gary wrote the twin head-scratchers "Bromide" and "Box of Words." 

Mike Watt and the others from New Alliance liked the tape well enough that they planned to put it out as a 5 song 45: NAR 009 (1982) Peer Group: Rhetoric and Hands EP 

They played as a trio for another year or so until Gary went into hospital, Lina went off to Connecticut to get married, later returning to San Pedro to settle, and Mike Hurley went to Texas to work as a mechanic. Jimmy "the Otter" Slayden eventually settled in Northern California. 

They did get the chance to play the Whisky a Go-Go before it was over, opening for Salvation Army and the Alley Cats. They were proud of that, even if it was a bit of a tin god hippy landmark. 

This is the recording they put together, half with Jimmy and half with Gary doing the singing. 

For some reason, though it was planned and designated NAR 009 — it was never released, until now. 

The band hopes you enjoy hearing it as much as they did recording it. 

Don't take it too seriously.
_________________________
PRODUCT HIGHLIGHTS
• Comes w/ MP3 Download 
• Download Includes 4 Bonus Tracks 
• Insert Included 
• Photo © Victor Sedillo
▬
WUB 009 
Release Date: 04.27.13